Therefore being justified by faith, we have peace with God through our Lord Jesus Christ…

—Romans 5:1
Because of the righteousness of God by faith of Jesus Christ, which He gives to us when we place our faith in Jesus Christ, we see this first great benefit — peace with God.
It is not the "peace with God" that so many often talk about, when they might say, "I've made my peace with God", when they have decided that they are not mad at God anymore. That is the attitude of one who thinks that God owes him a living not realizing that his place by nature is as a child of wrath (Ephesians 2:3). That he finally got over it is great, but we should face facts: that is his problem, and not God's. By nature he is still a child of wrath. It is not until one takes his place as a sinner in need of Christ as his Savior and believes the gospel that anyone has the peace with God that the apostle is writing of here.
There is a real, general peace that the whole world is enjoying for the moment because, for the present, God is not pouring out His wrath on the earth but is preaching reconciliation to the world. He is offering to all, everywhere, forgiveness of sins and justification from all sins by Jesus Christ because of His death for our sins. See 2 Corinthians 5:14–21. But this also is not the peace with God that the apostle speaks of in this first verse of Romans 5.
The peace with God that the apostle Paul is speaking of is a personal peace that is not a temporary peace, nor is it simply an armistice, neither is it anything at all dependent on how we are feeling at any particular moment. We have peace with God. There is nothing standing in the way of this peace and there is nothing that we are hiding from God that might spoil that peace, because we are justified by faith. We are lacking nothing, because as the apostle also tells us throughout the Colossian epistle "ye are complete in Him" (Colossians 2:10).
If it were simply an armistice, we might be concerned that tensions might again arise at any moment, but we need not worry. Through Christ we have now received the atonement (Romans 5:11). This atonement differs from the atonement in the Old Testament "Day of Atonement", which the Israelites observed year after year. That atonement was only temporary to assuage the wrath of God against the sins of the nation. The people and God could again be "at one" because the atonement was made on the mercy seat, where the Lord told Moses that He would meet with and commune with him (Exodus 25:22).
But all of the God commanded sacrifices, sin offerings, and other religious rites could never be as the propitiation that Christ provided is. His finished work of redemption was a permanent work. It was done once with results that can never be undone, so therefore, we have peace with God.
Hebrews 10:1–4 — "For the law having a shadow of good things to come, and not the very image of the things, can never with those sacrifices which they offered year by year continually make the comers thereunto perfect. For then would they not have ceased to be offered? because that the worshippers once purged should have had no more conscience of sins. But in those sacrifices there is a remembrance again made of sins every year. For it is not possible that the blood of bulls and of goats should take away sins."
The evidence of the temporary nature of this atonement was that it was repeated year after year after year in endless courses. But the atonement that Christ provides is permanent:
Hebrews 10:12–14 — "But this man, after he had offered one sacrifice for sins for ever, sat down on the right hand of God; From henceforth expecting till his enemies be made his footstool. For by one offering he hath perfected for ever them that are sanctified."
This word "atonement" is perfect in its use here, for while now the word is obsolete in this usage, an atonement is something that brings parties that are at variance into a state of unity. And that is how we can have peace with God. It is through our Lord Jesus Christ, as we are justified freely by God's grace through faith in the blood of Christ on the cross, we are at one with God.
---
Origin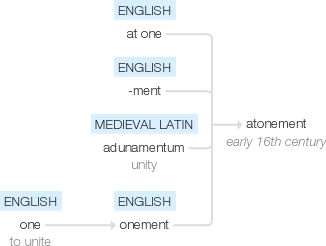 "early 16th century (denoting unity or reconciliation, especially between God and man): from at one + -ment, influenced by medieval Latin adunamentum 'unity', and earlier onement from an obsolete verb one 'to unite'.¹"
---
Since Christ has made atonement² we have peace for as long as Christ is the propitiation for our sins. This too no longer depends on us. For those that have "made their peace with God", I applaud you, but now hear this: God has done all to give you peace with Him. He is the very God of peace, as the Apostle so often calls Him (Romans 15:33; 16:20; 2 Corinthians 13:11; Philippians 4:9; 1 Thessalonians 5:23; Hebrews 13:20).
You can enter into this everlasting peace with the God of peace if you will simply accept the word of the Lord as true (His word is truth and He cannot lie, John 17:17; Titus 1:2) and accept the gift of righteousness "by faith of Jesus Christ, unto all and upon all them that believe" (Romans 3:22). The gospel by which we are saved is spelled out most clearly and simply in the apostle Paul's first epistle to the Corinthians, where he teaches the truth of the resurrection by going first to the fundamentals of the gospel:
1 Corinthians 15:1–4 — "Moreover, brethren, I declare unto you the gospel which I preached unto you, which also ye have received, and wherein ye stand; By which also ye are saved, if ye keep in memory what I preached unto you, unless ye have believed in vain.

"For I delivered unto you first of all that which I also received, how that Christ died for our sins according to the scriptures; And that he was buried, and that he rose again the third day according to the scriptures…"
If you have believed that gospel, you have peace with God. Enjoy that peace, in the same way that you were first justified: by faith.
---
End Notes:
Google definition and etymology. Simply type in atonement in the search bar and this definition will come up if you open the origin drop down.
Many argue atonement to be the wrong word, and the correct word in Romans 5:11 to be "reconciliation", because atonement is used in the Old Testament to refer only to the temporary atonements under the Old Covenant system. It should be noted, however, that the Hebrew word כָּפַר (kaphar) is most often translated "atonement" but is also translated as "reconciliation" in some verses such as Leviticus 8:15 and 2 Chronicles 29:24. The sense of the word in this verse is a peace making sacrifice that brings peace with God, just like the Old Testament atonements. The only difference is the permanence of the atonement made by Christ.
Husband, father, engineer...Enjoys fishing, archery, guitar, running, and lifting, but most of all reading and studying God's Word.